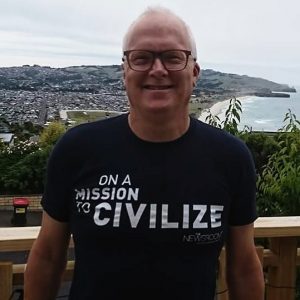 Stephen Davis
has been on the front lines of journalism for three decades as an investigative reporter in TV, magazines and newspapers and as a leading journalism educator, trying to uphold the ideals of the fourth estate, and to inspire his students to do the same.
He is currently teaching a course at the University of Otago in New Zealand on how to combat fake news, misinformation and disinformation. He was a consultant and on camera in a major Discovery channel investigative documentary on the sinking of the ferry Estonia and is now working on a new drama series for the BBC and a new book based on his investigative reporting. 
From the rainforests of Brazil to the icy wastes of Antarctica, from London to Los Angeles, from the Middle East to Australia and New Zealand, Davis has sought out the truth and sometimes found it. Along the way he has encountered lying politicians and corporate conmen, spies and special forces soldiers, secret policemen and scared scientists. Among those who have tried to persuade him from reporting his stories: men with Kalashnikovs, government lawyers, corporate PRs in fancy suits, senior police officers, billionaires, and newspaper owners.
Davis has worked for The Sunday Times in both London and Los Angeles, and was news editor and foreign editor of The Independent on Sunday. He has been a foreign correspondent, a TV producer for 60 Minutes and 20/20, a newspaper editor, a documentary film maker for the BBC and Discovery, and has taught journalism to thousands of students from all over the world. He has won multiple awards for his investigative reporting, including a silver medal at the New York film and television awards, and has designed and run journalism degree programs in London, Sydney and Melbourne.
"To abandon facts is to abandon freedom. If
nothing is true, then no one can criticize power,
because there is no basis upon which to do so.
If nothing is true, then all is spectacle. The biggest wallet pays for the most blinding lights" – Timothy Snyder – author and historian. 
"You should obtain accurate information because no judgement can be formed without it " – Winston Churchill.